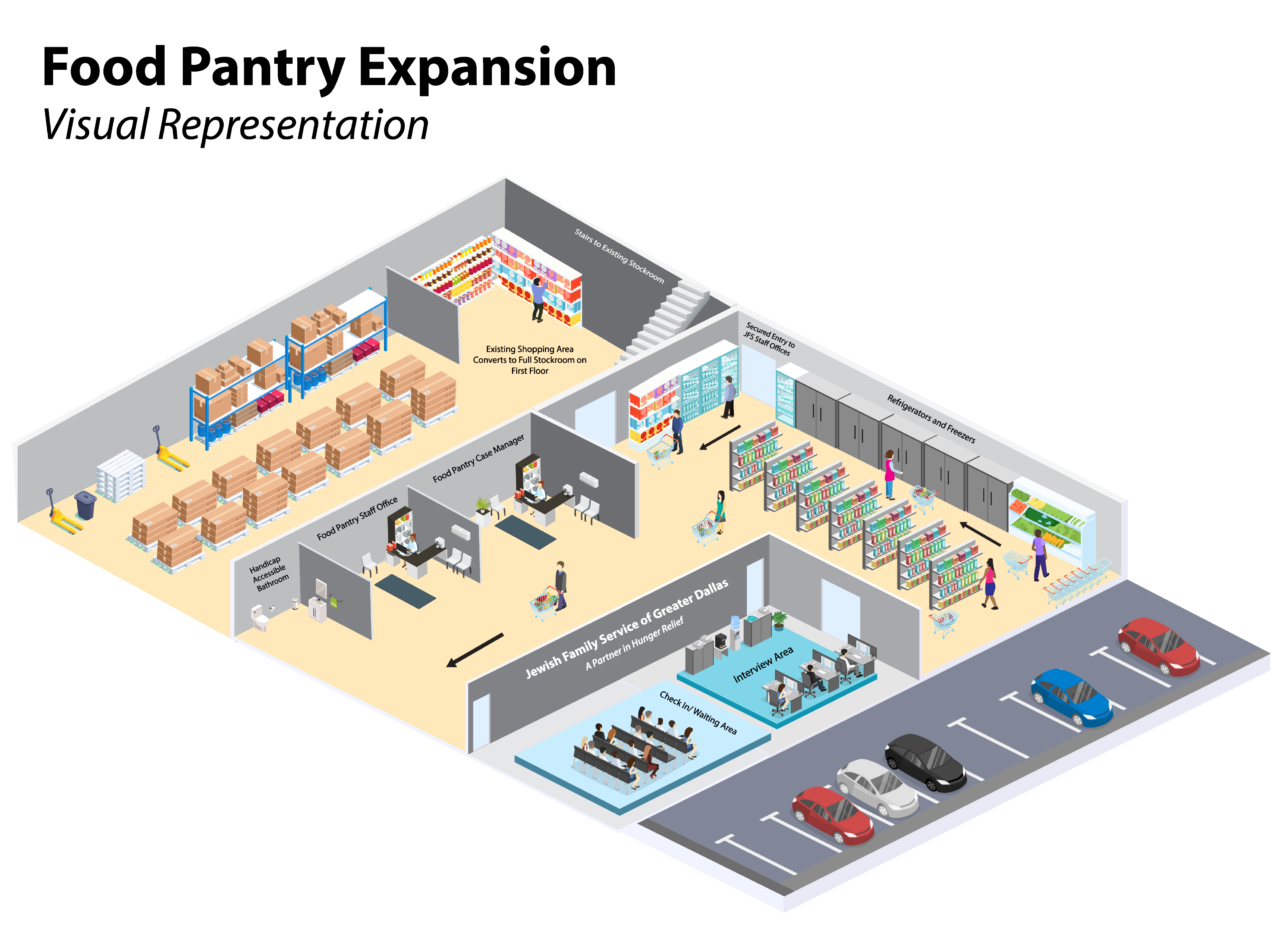 "We do a lot with very little space" has been the sentiment shared by volunteers and staff who have worked our North Dallas Food Pantry for the past 10 or so years.  By "a lot", this equates to receiving large shipments of food weekly, processing donations from corporate and community food drives, shopping 180 families three days per week, hosting a large-scale mobile food pantry distribution monthly, providing comprehensive case management, and connecting clients to other government benefits.  All within 1,500 square feet, little social distancing occurring at all, across two floors and perfectly choreographed so no one operation – receiving food or distributing food to clients – interfered with the other.  Instead, we should all be saying, "miracles happen here". 
However, this was our challenge before the pandemic and it continues today. We simply moved everything outdoors…temporarily.  Now serving over 700 families per week in our drive-thru distribution model, many more clients are now aware of the JFS Food Pantry and what we have to offer that we anticipate many of them will continue to come to us for food, fresh produce, toiletries, diapers, and wipes, long after the pandemic ends.
With the JFS "client choice" distribution model being best practice, we've been planning for many years how to strategically expand our space, serve a growing number of clients coming to us each year, and in a safer, more confidential manner. The termination of our Plaza Salons lease last January paved the way for us to have space – to the tune of 3,000 square feet – to expand our pantry. This expansion plan will, effectively, separate our distribution and client service areas from where we receive and store our food. In addition, we will be able to be open one more day per week, see more clients during each distribution, and have enough space for volunteers and clients to navigate the pantry safely. Clients will also have a more confidential experience when they are interviewed by a volunteer or a Case Manager, as they must share personal details of why they are food insecure during these meetings.
Led by Co-Chair teams, Lisa and Randy Fleisher and Kari and David Goldberg, the Food Pantry Expansion Committee was able to secure the funds needed to start construction once all building permits are attained this spring.  A total of almost $400,000 of the $1M goal was raised by year-end including a $100,000 grant from the Network of Jewish Human Service Agencies (NJHSA) for funding for the Kosher Corner, their own personal contributions, and several generous contributions from other community members.  This project will serve as the bridge for the next three to five years until we can complete our larger Capital Campaign to expand our JFS offices at the Arapaho location. 
If you're asking "How can I help?", we currently need volunteers to work our drive-thru distribution every Thursday until the remodel is complete and things return to normal post-pandemic. Sign up to volunteer at jfsdallas.volunteerhub.com. As a Society of Life donor, you will also be invited to the grand re-opening of the JFS Food Pantry in late summer 2021 to take a tour of the space and what we have accomplished.
For questions about this expansion, please contact our CEO, Cathy Barker, at cbarker@jfsdallas.org  or (469) 206-1645.