About Us
Agency Overview
Jewish Family Service of Greater Dallas is a nonsectarian mental health and social services agency that impacted over 39,000 lives last year. For more than 70 years, JFS has welcomed anyone through our doors regardless of race, ethnicity, religion, or the ability to pay.
For a comprehensive list of our services, download our agency one-pager.
OUR MISSION
To provide effective and accessible whole-person care that promotes lifelong self-sufficiency and well-being for the Greater Dallas community.
OUR VISION
Self-sufficiency and well-being for all.
OUR VALUES
Our work is guided by our core values:
WELCOMING
We are a welcoming community that fosters inclusivity and belonging.

RESPONSIVE
We respond with integrity to unexpected challenges when they arise.

COMPASSIONATE
We provide each client with compassionate care by respecting and addressing their individual needs.

DEDICATED
We are a team of dedicated professionals who provide the highest standard of excellence in service.
OUR BELIEFS
Our services and programs are built upon our core beliefs:
Any of us might need help from time to time as we navigate life's unexpected crises and challenging transitions.
An individual's emotional and physical well-being is the foundation for personal self-sufficiency, strong families, and meaningful social relationships.
Each child's physical, intellectual, and emotional potential can best be realized by growing up in a safe and nurturing environment.
All adults want to support themselves, meet family needs, and contribute productively to their community.
Older adults should have the option to remain in their own homes for as long as it is safe to do so.
Commitment to Diversity, Equity, and Inclusion
Jewish Family Service of Greater Dallas is committed to creating and promoting a diverse and inclusive workplace that is representative of the community we serve. Our goal is to ensure a welcoming environment for all members of our staff, board, volunteers, and clients, while continuing to honor the Jewish Values that our agency was founded on – Tikkun Olam (to repair the world), Tzedek (fairness), Chesed (acts of kindness), and Kavod (respect).
This commitment strengthens our ability to hire, retain and grow our greatest assets – our employees – and it allows us to fulfill our mission to provide effective, accessible, and comprehensive mental health and social services that promote lifelong self-sufficiency and well-being for the Greater Dallas community.
Tactics:
Intentional recruiting and hiring to ensure staff diversity.
Holding quarterly, mandatory training to ensure diversity, equity and inclusion are well-understood and part of the cultural framework of the organization.
Ensuring cross-functional or ad hoc teams are diverse and representative of the population we serve
Holding regular social events (online or in person) that will foster curiosity and new understanding about other religions, cultures, abilities, and life circumstances.
The early roots of JFS in Dallas can be traced as far back as 1911, when various benevolent societies united and incorporated as Federated Hebrew Charities, focused on settling Jews who were coming to America through Galveston. Through the following decades, the organization answered various local requests for aid from Russian immigrants, Jews fleeing Europe before WWII, those seeking new homes post-Holocaust, and many more.
Federated Hebrew Charities expanded to become the central fundraiser for all Jewish organizations locally and regionally in 1923, re-naming itself the Federation of Jewish Social Services. This was the precursor of today's Jewish Federation of Greater Dallas. The local social service bureau within the Federation became Jewish Family Service in 1942, consisting of a director and a single social worker.

An article published in the Federation News in December 1951 noted:

"What kinds of problems does Jewish Family Service try to resolve? They include temporary unemployment with loss of income, medical emergencies and consequent overwhelming medical bills, difficulties attendant on planning for an aged and enfeebled parent, family discord which may raise the question of divorce or separation. Jewish Family Service, through its staff of trained professional caseworkers, and with the assistance of many volunteers, is prepared to help families meet these problems."

Sounds familiar, right?

Jewish Family Service addresses many of those same issues today in our departments of Career and Employment Services, Emergency Assistance, Services for Older Adults, and Clinical Services for Adults. In response to community needs over the last 60 years, we have added Services for Children and Adolescents, Parenting Education, Family Violence Intervention, Support Groups, Healing Support, and Volunteer Services.

In 1983, JFS incorporated as an independent organization and became a Federation partner agency.

In the years that followed, we expanded from that earlier mission to address community needs in the areas of mental health services, services for children and adolescents, parenting education, family violence intervention, support groups and assistance for those with special needs.

We moved into this building in 2001 and now have offices in three other locations.

And now, looking forward to our next half-century…
When people come to Jewish Family Service for help, they know they can count on our expertise.

Our professional staff includes Licensed Clinical Social Workers, Licensed Marriage & Family Therapists, Licensed Professional Counselors, and Licensed Psychologists. We also work with consulting Psychiatrists as necessary. All of our professional staff continue their own education and training as appropriate to their licensure.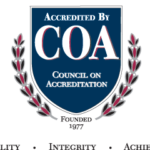 We are diligent in maintaining a system for on-going quality improvement—including client feedback, community input, and quantification of the outcome of our work.

Jewish Family Service is one of only six Dallas-Fort Worth agencies accredited by the Council on Accreditation. We continually meet the highest standards of practice in areas including governance, fiscal management, human resources management, and quality improvement.
Our community can rely on our expertise.
View our 2021-2022 Annual Report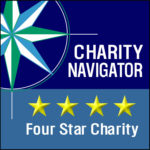 We are proud to announce Jewish Family Service of Dallas has earned our ninth consecutive 4-star rating. This is the highest possible rating and indicates that our agency adheres to sector best practices and that we execute our mission in a financially efficient way. Attaining a 4-star rating verifies that JFS exceeds industry standards and outperforms most charities in our area of work. Only 4% of the charities evaluated have received at least 8 consecutive 4-star evaluations, indicating that Jewish Family Service of Dallas outperforms most other charities in America.
We have also earned a 2021 Platinum Seal on GuideStar. We're proud to use GuideStar Platinum to share our full and complete story with the world. To reach the Platinum level, we added extensive information to our Nonprofit Profile: basic contact and organizational information; in-depth financial information; quantitative information about goals, strategies, and progress toward our mission. By sharing these metrics, we're helping the sector move beyond simplistic financial ratios to assess nonprofit progress.