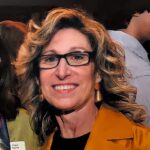 Interview Transcription:
L'dor V'dor. From generation to generation. This common phrase in the Jewish community refers to continuity, to the responsibility of passing on spiritual knowledge and cultural traditions from generation to generation for the purpose of sustaining the customs, heritage, and collective memory of the Jewish people.
One such custom is that of tzedakah, or charitable giving. One of the highest forms of tzedakah is to give a gift, loan, or partnership that will result in the recipient becoming self-sufficient.
Jewish Family Service of Greater Dallas (JFS) has been fortunate to have three generations of support from the Gutman-Star family. It's remarkable that since JFS was founded in 1950, there has always been a Gutman-Star woman involved in making more possible for the individuals and families we serve.
We had the opportunity to speak with Meri-Kay Star, a volunteer and donor, whose mother and grandmother not only passed on the importance of tzedakah, but their love for JFS as well. She is the fundholder of The Star Endowment Fund for Children's Mental Health Services, which was established in honor of her family.
Listen to the story of three generations of JFS giving now.
---
Tell us about your grandparents and parents.
"I am a native of Dallas, I was born and raised in Dallas. My grandparents on my mother's side were originally from New York and they moved to Dallas in the '20s. What brought my grandfather down was the oil business and they moved to Corsicana. He felt it was not a good place for my mother and my grandmother to have a life, so he moved them to Dallas, and that's where life began for them.
My mother's family got involved philanthropically in Dallas once they moved here when my parents were children. That's when I basically start my story. My upbringing was very blessed. I grew up in a loving family. We were not typically the reform Jewish family. My father was a big game hunter and my mother was very involved with social things and philanthropic things. She was a social worker when we were babies and she got involved in a lot of giving. But along with their marriage, they decided they loved doing volunteer work. So my mother did a lot of things with Jewish organizations and things. My father got involved with the Salesmanship Club of Dallas for men and he was a member for 62 years before he passed away.
And so between the two of them, my brother and I were exposed to a lot of different organizations. We volunteered ourselves; or I should say, our parents encouraged us to go with them and volunteer. And we did everything from putting mustard on hot dogs in west Dallas- when west Dallas was just a bunch of dirt streets- to working at the Byron Nelson, volunteering there for 32 years. I never was taught or told, but I got myself involved with Meals on Wheels, delivering at holiday time. And then eventually, I basically fell into my current love, which is JFS."
What are some of the family values that were instilled in you as a child?
"To give back. That we were so blessed and so fortunate- my brother and I both went to private school and my parents felt that education and giving back and travel were the most important things in life. Because they felt that learning and learning about people and caring about people and seeing people in different social strata, that that was very important. We needed to know there were people around the world that weren't as fortunate as we are."
How has your family impacted your philanthropy?
"I saw my parents and grandparents giving and volunteering in ways that I thought were really terrific. It's one thing giving money, but it's something else by giving money and volunteering in organizations. There's just that connection and that contact with people that are not in the same position as you are that are so important, whether it's helping with fun events like chili cookoff or reading to someone that is blind. We were all scattered across the board in all kinds of unusual situations but that's what made life fun and rewarding."
What about the mission of JFS spoke to the different generations of your family?
"The drawing of my grandmother, she loved people. She was a people person. And I have a feeling that in the early days when they were moved to Dallas that there wasn't a lot to do except for temple. And I think between temple and friends that that's how my grandmother got involved with JFS. And gradually she got more and more invested in the mental health of people and children. Then my mother, who again was a social worker, got involved with JFS through her job basically.
I think me seeing both of them volunteering, that's what brought me around to JFS. Also, I like that the fact that JFS isn't just for Jewish people, it's for everyone and all ages. I mean from babies all the way through the elderly. And that's very important because a lot of people do not realize that."
What are some of your earliest or favorite family memories of JFS?
"My earliest memories of JFS were just driving in the car out to JFS with my grandmother- who was a terrible driver- or my mother. And helping them volunteer, bringing food for some holiday. They didn't have the Food Pantry, per se, at that time. It was a different era pretty much then.
And you know, just meeting people and just seeing people coming to get help… I just loved it. It just brought something to my heart to see people like that and be amongst them. And then I'd go back to my world. It brought encouragement to me that people were really getting help where they needed it and that my family was involved."
What are you most excited about for the future of JFS?
"All the things that are coming our way with JFS, it's just so exciting! The Food Pantry Expansion is just terrific. Also all of your great staff. I think that everything just seems to be coming together for JFS and I'm hoping that in the next few years and the years to come that it will continue to grow and progress and continue to help so many people. I know it's going to be here for a long time and I hope to be part of it and I hope that other people will join me."
How do you feel like JFS has changed (and stayed the same) since you were little?
"How it's changed is dramatically. We've had to follow along with progress, with time. And things change, needs change, people change. It's not easy with things like the pandemic. But JFS jumped in and took over and did what they could. And the staff was still working even though it may have been remote.
I just think that over the years, it's changed for the better. And I think it will continue to change for the better as needs increase and we know more about more things and there's more access to things for us. I think more people know about JFS at this point in time, too."
Why did you choose the children's mental health program as the beneficiary to your family's fund?
"My family has always been interested in mental health. We've had some issues in our family over the years and my parents really believed people should get help if they need help, in the '50s, etc.
And when I came to JFS and wanted to start an endowment, I asked where things were needed and I was given several answers to that. They said that mental health for children all the way to young adults, they really needed the help there. And I said "Done! Give me the time to get my money together and we'll do it." It was really in honor of my parents.
My parents were so thrilled and so happy that I was doing something to help children because a lot of the time, it's more adult-oriented and the children are sort of forgotten or left behind. And I think you have to start young when there are problems, whether it's mental illness or it's bullying, I think you have to start young. You can't start mid-age and solve problems."
In what ways did having the same cause bring your family closer together?
"Honoring and working with and volunteering with JFS, I think that it really did bring my family together in lots of different ways. It brought us together with a common interest, a common bond, a common love of helping people. I think being from Dallas, that it was helping and doing things for people even that we knew. And I think that was really important.
Also, we could refer people. All of our different ages, my grandmother, my mother, my father, my brother, and I could- with all the different things that JFS does with career counseling, with health things, with mental health, with Food Pantry- we could hit all different levels of helping people.
And that's helped my family come together with one common interest because we've all had to get, you know, psychiatric help at different times in our lives. So, I mean, fortunately, we've never had to use a food bank or anything like that, but it's here, I know, if I need it."
What would you say to those who are considering giving to JFS?
"I would say do it. Not only will you give to something that makes such a difference in so many people's lives, but it will also give you a wonderful feeling. I think that it's just a wonderful organization. It's doing good things for good people that need help."
Why should other families consider starting a legacy of giving?
"I believe that you can't give enough. And I think families should consider giving because the effects that it will make in someone's life will last forever. It's a lifelong gift, not only for the people that you're helping but for yourself."
How do you see your legacy continuing in the future?
"Sadly, I don't know that the legacy will continue because I do not have children. And it crushes me. It really does crush me. But I am leaving money in my will for the endowment because I feel very strongly that I would rather leave it to JFS so that my legacy lives on here."
If your story inspires even one person to give, that would continue your legacy.
"Oh, well that's true! I mean, I have sent friends over here who have lost jobs over the years that found work through JFS or got good leads- even if they didn't get a job right away, they got good leads.
It constantly just adds like a caterpillar, it just keeps adding on and adding on and adding on. But, I mean, I think it's wonderful. And everybody has a pet organization that they give to. But I give here for all my family."
---
If you would like to give to the Star Endowment Fund for Children's Mental Health Services, or learn more about establishing your own named fund at JFS, you can go to jfsdallasfoundation.org