February is Black History Month! To celebrate, we are honoring African American pioneers in social service. The contributions of these men and women have created a momentum of societal progress that allows us to serve our community today and their leadership positively affected millions of people around the world.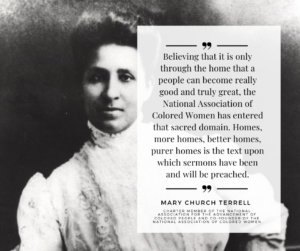 Mary Church Terrell (1863–1954) was the daughter of former slaves who championed racial equality and women's suffrage in the late 19th and early 20th century. Her words—"Lifting as we climb"—became the motto of the National Association of Colored Women (NACW), the group she helped found in 1896. In 1909, Terrell was among the founders and charter members of the National Association for the Advancement of Colored People.
In 1950, at age 86, she challenged segregation in public places. She was victorious when, in 1953, the Supreme Court ruled that segregated eating facilities were unconstitutional, a major breakthrough in the civil rights movement.
Homes, more homes, better homes, purer homes…
-Mary Church Terrell, Charter Member of the National Association for the Advancement of the National Association of Colored Women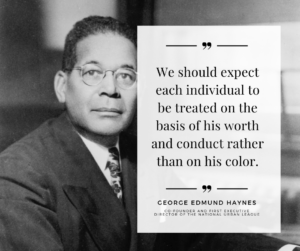 George Edmund Haynes (1880-1960) was a social worker and educator. After receiving his PhD from Columbia University, he involved himself in the activities of the American Association for the Protection of Colored Women; the Committee for Improving the Industrial Conditions of Negroes in New York; and the Committee on Urban Conditions Among Negroes. He was instrumental in merging these groups into one organization, named the National League on Urban Conditions Among Negroes (NLUCAN), now known as the National Urban League.
He also helped the New York School of Philanthropy and NLUCAN in collaborative planning that led to the establishment of the first social work training center for black graduate students at Fisk University in Nashville, Tennessee.
We should expect each individual to be treated on the basis of his… conduct…
-George Edmund Haynes, Co-Founder and First Executive Director of the National Urban League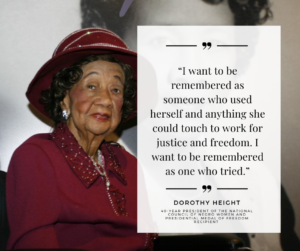 Dorothy Height (1912-2010) was a social worker and American civil rights and women's rights activist who was accepted to Barnard College in 1929, but was denied entrance because the school had an unwritten policy of admitting only two black students per year. She graduated from NYU and became a social worker.
She was involved in social service for some six decades, four of them as president of the National Council of Negro Women (NCNW), an umbrella organization that comprises civic, church, educational, labour, community, and professional groups. Her involvement with the Young Women's Christian Association (YWCA) facilities for black women led to her advocacy of improved conditions for Black domestic workers, to her election to national office within the YWCA, and to her involvement with that organization's integration policy.
Height's prominence in the Civil Rights Movement and unmatched knowledge in organizing meant she was regularly called to give advice on political issues. Eleanor Roosevelt, Dwight D. Eisenhower, and Lyndon B. Johnson often sought her counsel. In 1963, Height, along with other civil rights activists organized the March on Washington for Jobs and Freedom although she was not invited to speak. Height received the Presidential Medal of Freedom from President Bill Clinton in 1994.
I want to be remembered as one who tried.
-Dorothy Height, 40-year president of the National Council of Negro Women and presidential medal of freedom recipient
Black History Month celebrates the contributions of African-American pioneers and visionaries across every field. These are just a few of the many influential African-American social workers who spent their lives advocating for better social services. At JFS, we are proud to honor the lives of these extraordinary people whose work has changed, and continues to change, the field of social work.