Society of Life: JFS Major Donor Giving Society
Since its founding in 2005, Society of Life has given donors of $1,800 or more recognition for providing sustaining support to our wide array of expert mental-health and social services. These annual contributions make it possible for us to offer services on a sliding fee scale — that can go to $0 — ensuring no client is turned away because of an inability to pay.
We are pleased to introduce new giving levels and benefits within Society of Life. These expanded levels ($1,800–$50,000+) give us an opportunity to thank and engage our generous donors throughout the year with access to special events, unique opportunities to interact and learn more intimately about the work of Jewish Family Service, and public recognition of the vital support each donor provides to the agency.
A donor's level will be determined by the cumulative amount given directly to JFS within our fiscal year (August 1 – July 31). Please note that this amount does not include in-kind donations.
These changes will also affect our annual fundraising events, Woman to Woman and Just For Show. What have previously been considered sponsorship benefits will now be a part of a donor's Society of Life level benefits. On April 24, 2020, JFS will host our Woman to Woman Luncheon. The chart below reflects the benefits that relate to this year's event.
Additionally, the chart details all other benefits associated with each level of giving. (download the chart here)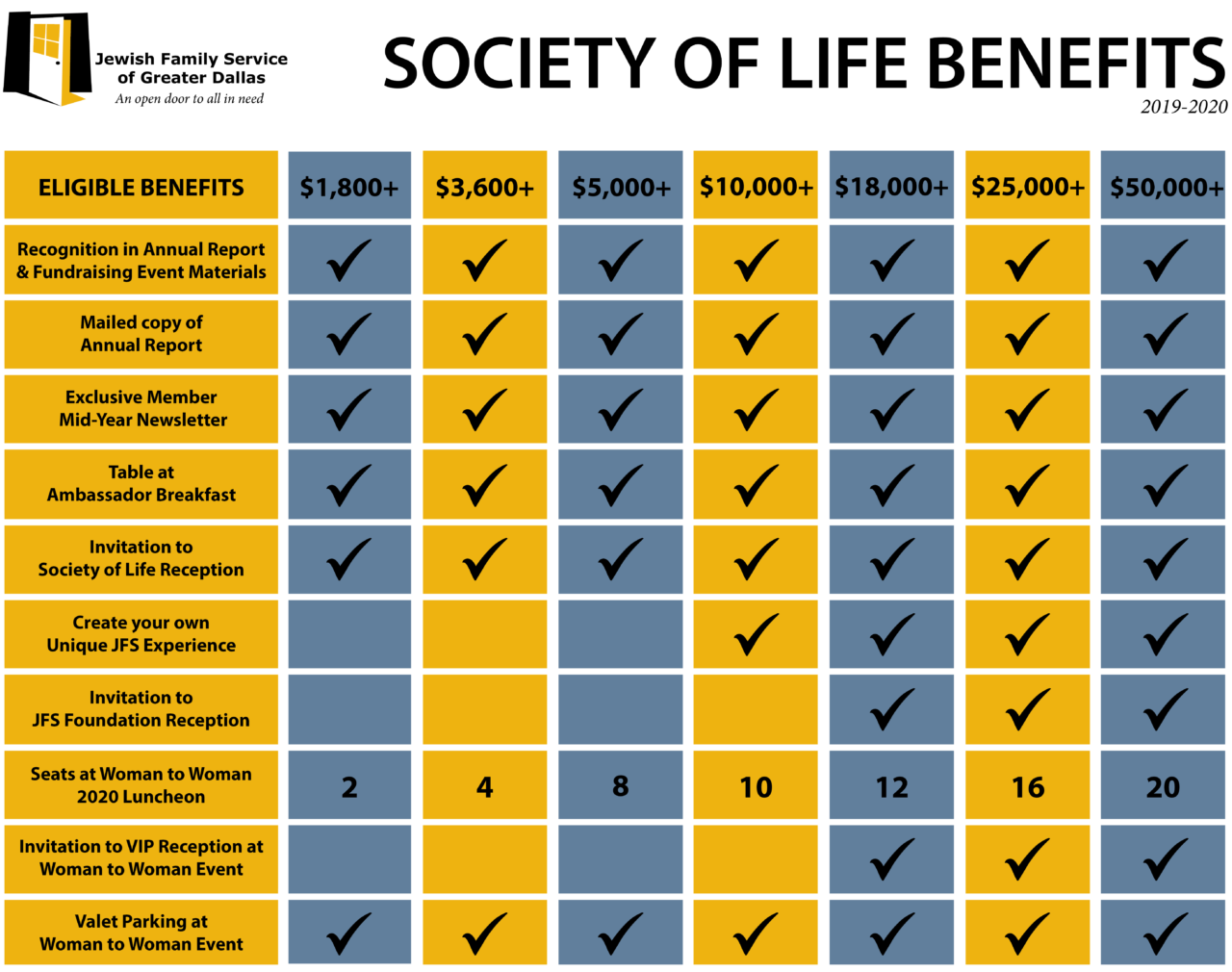 Any questions about the new Society of Life giving levels can be directed to Judy Schecter, our Director of Development, at 972.663.5535 or jschecter@jfsdallas.org.
Frequently Asked Questions