Someone to Lean On during COVID-19
Looking for a way to help safely from your home during the COVID-19 pandemic? We've got the perfect opportunity. Be "someone to lean on" and show your support by sharing some of these messages on your social channels to spread the word about services available through Jewish Family Service of Greater Dallas.
By joining in this social campaign, you are not only telling your friends and family that you are someone to lean on if they need to talk during this uncertain time, but also sharing that JFS Dallas is here as a resource as well. Our hope is that our friends who can offer financial support will consider doing so and those who prefer to just spread the word about JFS Dallas will consider doing so too!
We recommend choosing 1-2 favorite messages below and posting them a few days apart with your own personal message or copy language from the example social posts below. Be sure to tag JFS Dallas on Facebook!
Example social post #1:
With all the closures in Dallas and across the US, those who live paycheck-to-paycheck have even greater anxiety about what the next few months look like as a result of COVID-19. Many who work in the hardest hit industries will no longer have the funds to pay for their rent, utilities, food, medication, mental health care and other basic needs items. That's where we come in as #someonetoleanon. With your help, Jewish Family Service (JFS Dallas) can keep the lights on for those who need it most… I hope you'll join me in showing them our community is rallying behind them. Donate to my fundraiser here or online at www.jfsdallas.org/donate. Thank you for supporting JFS and being #someonetoleanon
Example social post #2:
Have you heard about the S.H.E.F. Emergency Assistance Fund available to hourly employees during COVID-19? Established by Janet and Jack Baum and John Nikolas, it is an effort to provide support to as many restaurant hourly workers as possible throughout North Texas. The S.H.E.F Fund, which stands for "Stacy's Hourly Employee Fund" is named after Stacy Fussell, a longtime Woodlands American Grill employee who passed away recently. In addition to this financial support, JFS will be be providing case management assistance and connecting these workers to eligible benefits, employment opportunities, counseling and other resources as they navigate this crisis. Please consider donating to this fund to help those in need as fast as possible.
Be #someonetoleanon by donating at jfsdallas.org/donate and in the Additional Comments section type "S.H.E.F. Fund." The donation is tax-deductible. If you know an hourly worker in the restaurant industry who is out of work, please have them call JFS at 972-437-9950 x 340 to apply for the funds.
Temporary Profile Picture Frame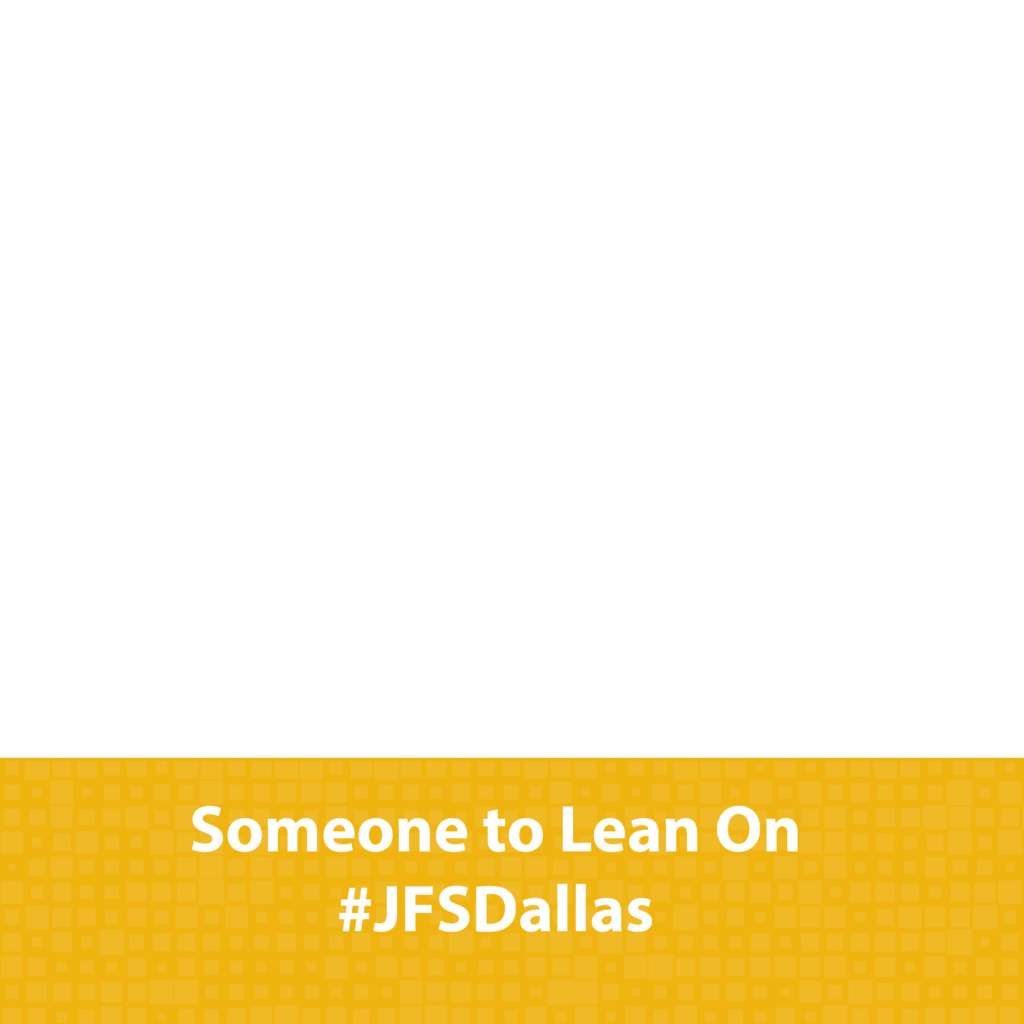 Timeline Images:
Right click, save, and then upload on your personal page.